Restaurants & Bars
Delight with excellent local and international gastronomy at Park Royal Huatulco's Restaurants, Snack Bar and Bars. Start your day with a delicious breakfast Buffet, pamper your palate with a snack, enjoy A la Carte specialties or Buffet service and taste your drink of choice, all this unlimited in your Huatulco All-Inclusive package.
The All Inclusive package at Park Royal Huatulco includes a wide variety and quality of food in Restaurants and Snack Bars. Taxes and tips are also included. Enjoy the services provided at the following places and hours.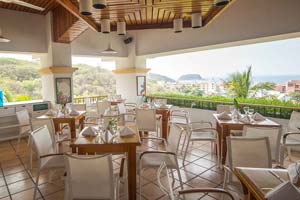 El Mirador
Italian Specialties
Opens:
Continental breakfast: 7:00 AM - 10:00 am
Snacks: 12:30 PM - 03:00 PM
Italian dinner A la Carte: 7:00 PM - 10:00 PM
The Bar services at El Mirador are available daily from 11:00 AM - 08:00 PM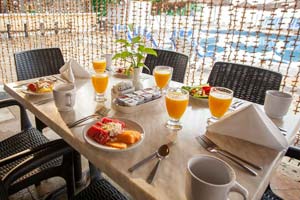 Beach Club
Buffet Service Only
Opens:
7:00AM - 11:00 AM / 1:30 PM - 4:30 PM / 6:00 PM - 9: 30 PM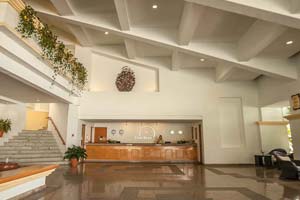 Lobby Bar
Opens: 12:00 PM - 2:00 AM
Unlimited domestic and imported drinks (selected brands).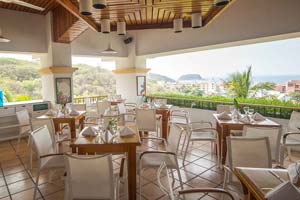 El Mirador
With glass walls and an outstanding view of the Nichupté Lagoon, El Mirador specializes in a-la-carte Italian specialties cooked to perfection and served with flair. Live entertainment and an ultra-tempting desserts buffet make it the highlight of any evening. Topped off with Italian espresso or another glass of wine, there is simply no finer toast to your dream vacation.
Breakfast: 8:00 am - 11:30 am
Dinner: 6:30 p.m.-11:00 p.m
Restrictions for dinner
• Dress Code: Casual
• Reservations required.
• Exclusively for guests 12 years of age and older. DressCode (Long sleeves & close-toed shoes required. No shorts, sandals or sneakers.)
Ekinox Lounge
6:00 p.m. - 1:00 a.m.
Rooftop, above the Mirador, there's something for everyone. With outstanding sunset views of the Nichupté Lagoon, it's a stylish retreat and a chance to live it up when the sun goes down.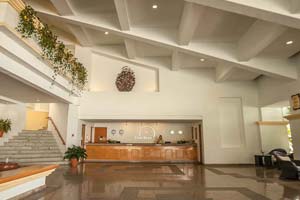 Lobby Bar
12:00 p.m. - 1:00 a.m.
Fête old friends and new, in the hotel's chic, Zen-inspired Lobby Bar.
Fresco (Deck & Pool)
10:00 a.m. - 8:00 p.m.
Across from the main swimming pool, relax with your favorite cocktail, enjoy the sun and views that won't quit.
Premier (Deck & Pool)
10:00 a.m. - 8:00 p.m.
Swim-up from the swimming pool, for all-day drinks and cheer.
Pizza Corner
11:00 a.m.-5:00 p.m.
Free, oven-baked, fantastic pizza, all day, every day.
CafÉ SolÉ
7:00 a.m.-11:00 p.m.
Just off the main lobby, there's coffee, tea, and ice cream. How about a fresh panini? Somehow, it just makes a ton of vacation sense and it's one of the most popular spots in the entire hotel.
El JardÍn Snack Bar
11:00 a.m. - 6:00 p.m.
7:00pm - 11:30pm (Taco Stand)
By the main pool, drinks & refreshments satisfy afternoon cravings.
NOTE: The Taco stand opens only from Friday to Sunday.